Catering
FOOD ARRANGEMENTS TO SUIT THE NEEDS OF YOUR GROUP
The type of catering that's right for your group

At our activity centre, you can choose between self-catering and full-board. The two full- board options entail all-inclusive catering provided by our kitchen staff, whilst the self-catering option means you will be given the appropriate kitchen facilities for your own catering team to use.​
Overview of catering options:
"Standard" full-board
ideal for youth groups and schools
"Plus" full-board
ideal for conference groups
Self-catering
our kitchens, your own team
"STANDARD" OPTION
Each evening, you will be cooked healthy, balanced meals that are tailored to children and young people. The meals are prepared by our staff and served as a buffet. There is a set menu every lunchtime. Water and tea are available all day long.
"PLUS" OPTION
These evening meals are geared towards young people and adults. On top of the food included in the "standard" option, you will be served a range of bread rolls, sausages, cheese, fruit and juice. You will also be offered scrambled eggs and bacon, along with many other delicacies.
The lunchtime menu is likewise more elaborate than that of the "standard" option.
SELF-CATERING
This option allows you to manage your own catering arrangements:

Your group will have its own kitchen (small or large, depending on group size) and you can cook your own food on site.

We're more than happy to discuss on-site shopping facilities and also recommend local suppliers.

The following kitchens are available:
Additional features of full board catering:
Barbeque nights, celebration buffets, afternoon coffee with or without cake, packed lunches, campfire bread, vegetarian/ pork-free options and lots more.
Unfortunately, we are unable to cater for other food intolerances and allergies, but we will happily refrigerate and/ or heat up any meals that you bring with you.
Our kitchen team will gladly discuss catering matters with you!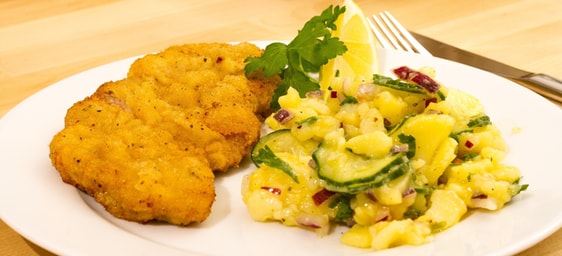 Small kitchen in the community lodge
You can cook in this kitchen, equipped to cater for up to 60 people, to your heart's content, allowing group cooking to become a community activity during your stay.
Large kitchen in the Hermann-Kupsch-house
This large kitchen caters for up to 150 people. It is equipped with professional appliances suitable for industrial-scale catering. It is particularly suitable for groups with their own catering team.
In both kitchens:
You will find an industrial dishwasher along with combi-steam ovens and professional kitchen equipment.